Cookies, siapa sih yang ga tau makanan ini..:P Bikinnya emang sedikit ribet, apalagi kalo mesti di cetak satu-satu. Seperti ananas tart aka nastar. Butuh perjuangan buat bikinnya tapi dalam hitungan menit pasti cepet banget abisnya.
Ada banyak jenis cookies, salah satunya shortbread. Nah yang ini dijamin gampang bikinnya dan ga bikin pegel untuk mencetak satu-satu seperti nastar. Dibuat dari gula, butter dan tepung juga tanpa telur.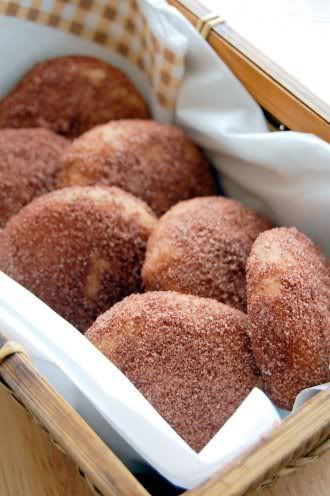 Shortbread is a type of biscuit (cookie) which is traditionally made from one part white sugar, two parts butter, and three parts plain white flour, although other ingredients like ground rice or cornflour are sometimes added to alter the texture. Shortbread is so named because of its crumbly texture (from an old meaning of the word short). The cause of this texture is its high fat content, provided by the butter. The related word "shortening" refers to any fat that may be added to produce a short (crumbly) texture. [1]
Shortbread is traditionally formed into one of three shapes: one large circle, which is divided into segments as soon as it is taken out of the oven ("Petticoat Tails"); individual round biscuits ("Shortbread Rounds"); or a thick (¾" or 2 cm) rectangular slab cut into "fingers." It is made from a stiff dough that retains its shape well during cooking. The biscuits are often patterned, usually with the prongs of a fork before cooking; they are then sprinkled with more sugar while cooling. Shortbread biscuits are often associated with normal egg-based biscuits, but they hold their shape under pressure, making them ideal for packed meals.
Shortbread is also sometimes shaped in stars and other shapes for special occasions

Sumber : Wikipedia.
Resep shortbread favorite kita didapat dari blognya Vania, yang penuh dengan resep praktis tapi hasilnya pasti enak. Dari mulai muffin, cookies sampai cupcake.
Shortbread ini memang ada rasa kopinya, tapi rasa coklatnya juga terasa. Nah bagi penggemar kopi, sepertinya resep ini bisa jadi andalan, apalagi bila dimakan bersama secangkir teh atau segelas susu. :P
In 2001 the editors of Midwest Living magazine sent out a call for the best cookie recipes in the Midwest. The chocolate-freckled shortbread rounds from Chicago baker
Marlene Kroll
wowed the judges panel and won a spot in the magazine story.

Espresso Delight Shortbread


Prep: 25 min. Bake 12 min per batch.
Make about 36 (~sy jadi 50 biscuit!)

1 cup butter, softened
2/3 cup sifted powder sugar
1 tbsp instant espresso powder or regular instant coffee crystals.
1 tsp vanilla
1/2 tsp ground cinnamon
2 cups all-purpose flour
1 ounce semisweet chocolate, finely chopped
Sifted powdered sugar and/or unsweetened cocoa powder
1. Preheat
oven to 325 F. In a large mixing bowl beat butter with an electric mixer on medium speed to high speed for 30 seconds. Add the 2/3 cup powdered sugar, espresso powder, vanilla, and cinnamon. Beat until combined, scraping sides of bowl occasionally. Beat in as much of the flour as you can with the mixer. Stir in the remaining flour and chocolate with a wooden spoon, kneading dough in bowl slightly to blend, if necessary.
2. Shape
dough into 1 inch balls. Place balls on an ungreased cookie sheet. Flatten slightly.
3. Bake
in the preheated oven about 12 minutes or until cookie edges are set an bottoms are golden. Transfer to a wire rack and let cool. Springkle with additional powdered sugar and/or cocoa powder.
To store: Place cookies between layers of waxed paper in an airtight container, cover. Store at room temperature for up to 3 days or freeze for up to 3 months.
Sumber : Vania