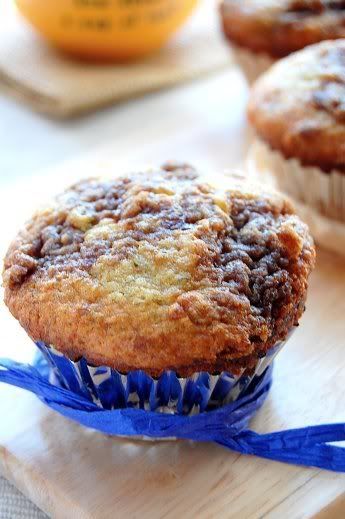 Kalo pagi-pagi kadang suka bingung bikin sarapan yang cepet. Pilihan kali ini jatuh ke Muffin. Selain proses pembuatannya yang cepet, praktis lagi ga perlu mikser untuk bikin adonannya.
Didapur ada beberapa pisang yang masih segar, tapi kayaknya enak juga kalo dibuat muffin pisang. Biar gampang ngelumatnya, pisang seger itu dipanasin di microwave.
Potong-potong pisang, masukan ke dalam wadah tahan panas/tahan dimicrowave tutup dengan plastik tahan panas. Kemudian panaskan kira-kira 2-3 menit.
Resepnya diambil dari
Allrecipes
, itu juga karena baca reviewsnya yang dapet bintang lima. Padahal yang nge-review ada sekitar 2300 an orang. Udah pasti muffin ini bakalan enak hasilnya. Apalagi ditambah crumbnya yang dicampur dengan bubuk kayu manis, bakalan harum n ih.
Nah saya bikin muffin ini satu resep, hasilnya dapet 10 muffin ukuran besar. Brown sugar diganti dengan palm sugar, karena memang ga punya persediaan brown sugar. Bener aja hasilnya enak, lembut dan kerasa banget kayu manisnya. Dua jempol deh buat Muffin ini...bener-bener Best Banana Muffin :D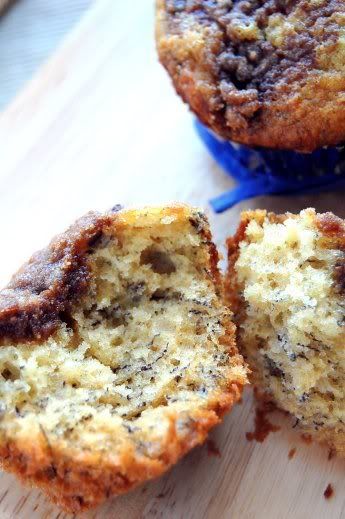 Banana Crumb Muffins
INGREDIENTS
1 1/2 cups all-purpose flour
1 teaspoon baking soda
1 teaspoon baking powder
1/2 teaspoon salt
3 bananas, mashed
3/4 cup white sugar
1 egg, lightly beaten
1/3 cup butter, melted
1/3 cup packed brown sugar
2 tablespoons all-purpose flour
1/8 teaspoon ground cinnamon
1 tablespoon butter
DIRECTIONS
Preheat oven to 375 degrees F (190 degrees C). Lightly grease 10 muffin cups, or line with muffin papers.

In a large bowl, mix together 1 1/2 cups flour, baking soda, baking powder and salt. In another bowl, beat together bananas, sugar, egg and melted butter. Stir the banana mixture into the flour mixture just until moistened. Spoon batter into prepared muffin cups.

In a small bowl, mix together brown sugar, 2 tablespoons flour and cinnamon. Cut in 1 tablespoon butter until mixture resembles coarse cornmeal. Sprinkle topping over muffins.

Bake in preheated oven for 18 to 20 minutes, until a toothpick inserted into center of a muffin comes out clean.
Source :
Allrecipes