In my first few months in
Japan
, a good Japanese friend of mine invite me to try natou. It is one of favourite food among Japanese. When I first looked at it, I could not stand the powerful smell and sticky-shape which of course it did not invite my appetite at all.
Nattō
(

納豆

,

Nattō

?

)
is a traditional
Japanese food
made from
fermented
soybeans
, popular especially for
breakfast
. As a rich source of
protein
, nattō and the
soybean
paste
miso
formed a vital source of
nutrition
in
feudal Japan
. For some, nattō can be an
acquired taste
due to its powerful
smell
, strong flavor, and sticky consistency. In Japan nattō is most popular in the eastern regions, including
Kantō
,
Tōhoku
, and
Hokkaido
.
Source :
Wikipedia
Natou is sold in any supermarket. Very cheap, it is usually boxed in small stryrofoam cup. It is made of soya beans which is fermented in such a way very much like Indonesian's
tempe
. Most Japanese will have natou along with raw egg, onion leaves and of course soy sauce and some will put wasabi on top.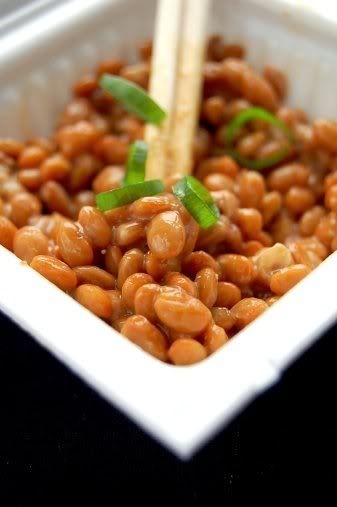 Despite the look and bad smell, natou is rich in protein and very nutritious. So it must be good for your body. You should try natou when you come to
Japan
! This natou presentation is my entry to the
" Click "
event hosted by
Jai and Bee
, which this month's theme is
Beans and Lentils
.