When I prepare breakfast for my family, it has to be quick and simple. My youngest son is choossy when it comes to food. Sometimes, he asks me to prepare something light, as it will ease on his digestion.
Porridge, sandwich and pancake is among our favourites. However, since we live in
Japan
, choice of breakfast are mostly limited to rice and its side dishes, which in fact the least expected by my family.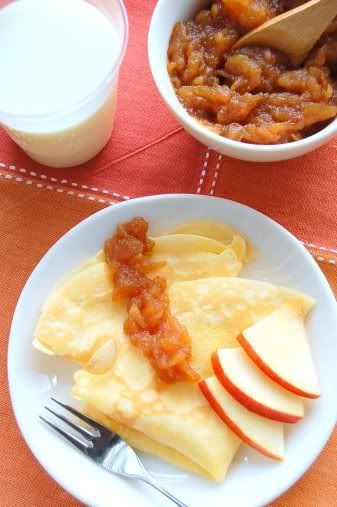 Fortunately, we got crepe recipe from
Ayin's kitchen
. Back in our home country, My hubby and I used to buy crepes, which sold in a yummy crepe stall in downtown. It has special topping like fruit, ice cream or anything you want.
Now, I try it myself. I put homemade apple sauce for topping. It is perfect breakfast idea for my family and this is my entry for
Recipe Remix - Part II event
, hosted by Danielle and Robin.
CREPES
Source : Ayin's Kitchen

Ingredients :
100 gr flour
1 tbs sugar
1 egg
50 ml milk
50 gr butter, melted
100 ml water ( you can add more if it's required )

Direction :
In a bowl wisk together the flour, sugar and egg.
Gradually add milk, water and butter until combine.
Heat a griddle or frying pan in medium heat, pour the batter onto griddle or pan.
Tilt the pan with cilcular motion until the batter coats the surface evenly.
Cook for 2 or 3 minute until the bottom golden brown.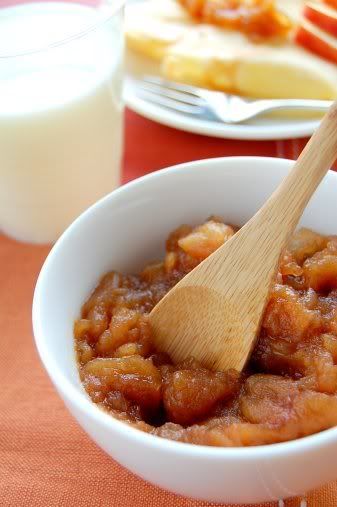 Sarah's Apple Sauce
Source : AllRecipe

Ingredients :
4 apples - peeled, cored and chopped
3/4 cup water

1/4 cup white sugar

1/2 teaspoon ground cinnamon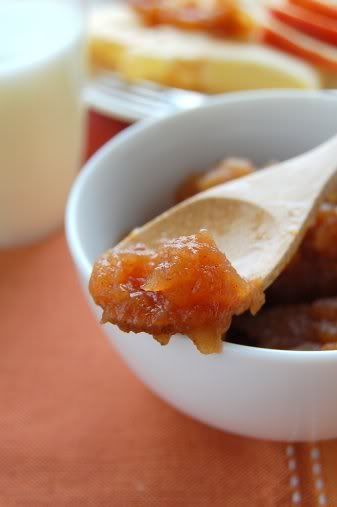 Directions :
In a saucepan, combine apples, water, sugar, and cinnamon. Cover, and cook over medium heat for 15 to 20 minutes, or until apples are soft. Allow to cool, then mash with a fork or potato masher.