Not all kindergarten in
Japan
prepares lunch meal for the children. My youngest son's, "P", school is among those who requires moms to prepare meal for their children. Lunch box is called obentou (おべんとう) in Japanese. However, unlike any ordinary lunch box, bentou is usually prepared in such a way which makes look like a piece of rather than a regular lunch box. So I learn the trick from the bentou books which are widely sold in any bookstore in
Japan
.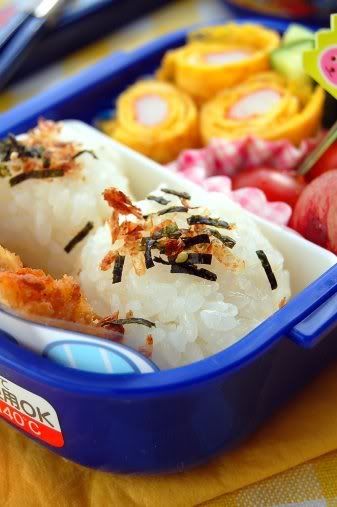 Bentou for kids usually do not contain any sweets. The school encourages mom to prepare bentou from fresh materials. Onigiri bentou is the most popular one. It is a rice ball which is can be mixed with fish, egg, konbu, or katsuobushi, and wrapped with nori. Nori is seaweed, which is a must companion for onigiri. Katsuobushi is Japanese name for dried and smoked tuna.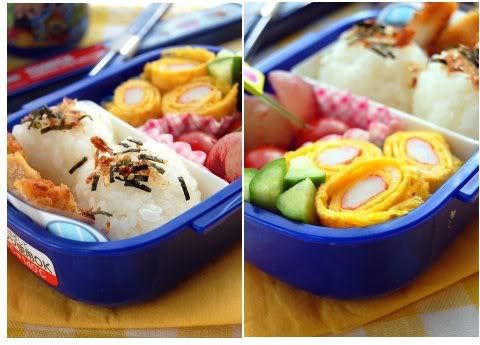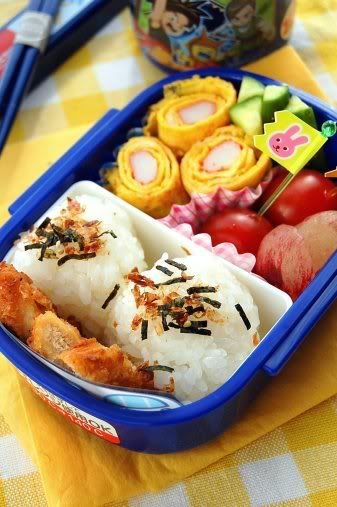 Today, I make onigiri with katsuobushi, chicken katsu, egg roll with kani, grape, cherry tomatoes and cucumber.

You can make katsuobushi onigiri by yourself. First, mix a bowl of rice with a little bit of salt. Put small amount of katsuobushi and mixed with the rice. Then put them into the onigiri template. You can buy the template from any local japanese store. This bento idea is my entry for
Wholesome Lunchbox
, hosted by
Margot - Coffe and Vanilla
.